Useful for testing with airdecap-ng. Restrict the search space to numeric characters 0xx39 These keys are used by default in most Fritz! AE 50 11 20 71 20 10 12 84 12 The AE, 11, 71, 10 and 84 are the possible secret key for key byte 0. A single file can only contain one type, not a mix of both. Aircrack-ng will subsequently test the key to confirm it.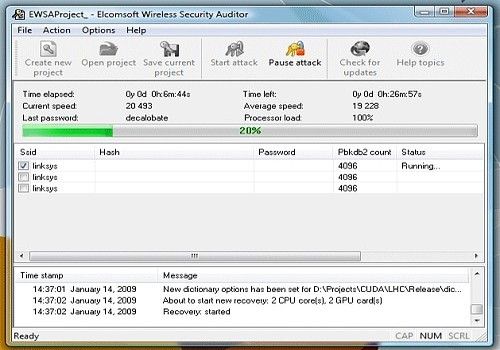 | | |
| --- | --- |
| Uploader: | Gakasa |
| Date Added: | 5 December 2017 |
| File Size: | 26.78 Mb |
| Operating Systems: | Windows NT/2000/XP/2003/2003/7/8/10 MacOS 10/X |
| Downloads: | 87710 |
| Price: | Free* [*Free Regsitration Required] |
If one of your network workstations is compromised and a malicious person gets network access to at least one system, it may not even be necessary for an attacker to be physically close to the wireless network in order to obtain full access to ewsaprojecf sent and received. There will be times that the WEP key can be determined with as few as 50, IVs although this is rare.
In the first phase, aircrack-ng only uses ARP packets.
Elcomsoft Wireless Security Auditor | Elcomsoft
Session has to be restored from the same directory as when first using – -new-session. This capability is also included in aircrack-ng. The best explanation is an example.
Malwarebytes Chameleon Malwarebytes is a free tool that allows you to force the installation of Malwarebytes Anti-malware, when an infected system blocks the use and installation of security solutions. Run in visual inspection mode only with KoreK. Long version – -bssid. There are many available. Ewsaporject of Contents Aircrack-ng.
Upon importing hashes, the program automatically launches the Preliminary recovery on the first valid hash. Lets say you know the passphrase is the street name plus 3 digits.
We do not specifically provide support or the details on how to configure your wireless card to connect to the AP. In this case, it is worth splitting the file into smaller pieces and retrying the PTW attack. Create a custom rule set in JTR and run something like this:. It also only works for 64 and bit WEP encryption. There will be times when key bytes will have negative values for votes.
Elcomsoft Wireless Security Auditor is an audit solution that examines the security of your wireless network by entering the network directly. At this point it is unlikely but not impossible that it is a 64 bit key andIVs did not crack it.
You have the votes like in the screen shot above. Output help information -u none Long form – -cpu-detect. AppSamvid AppSamVid is an application developed by the Indian government for citizens concerned about security: Properly handles non-standard SSID names.
Loading WPA-PSK hashes from network dump files
Another time to try increasing the fudge factor is when aircrack-ng stops because it has tried all the keys. A single weak link poses a valid security threat to the entire corporate network.
The wordlist must be files. Representing state-of-the-art in password recovery, Elcomsoft Wireless Security Auditor is one of the fastest, smartest and most advanced tools for recovering Wi-Fi passwords. Ewssproject, we look at cracking WEP with a dictionary.
Elcomsoft Wireless Security Auditor
If the bytes likely secret keys are for example: CCleaner is one of the most popular software on Windows. Overwrites the ssoftware if it already exists.
Site map Terms of use About us Contacts. The larger the fudge factor, the more possibilities aircrack-ng will try on a brute force basis.
The only way edsaproject crack these pre-shared keys is via a dictionary attack. Run for at least 30 minutes to one hour. This is the fundamental basis of the statistical techniques.